This shop has been compensated by Collective Bias, Inc. and its advertiser. All opinions are mine alone. #NatureMadeHeartHealth #CollectiveBias
The most significant key to overall health and wellness is without a doubt the maintenance of a healthy heart. With the heart's never-ending task of circulating blood that transports with it oxygen and essential nutrients throughout every part of the body as well as carrying away waste products from metabolism, it is essential that we keep this organ in optimal working condition. Below are 4 ways that to easily support heart health and wellness on a daily basis.
1. 

Nature Made® EPA + DHA Omega 3 Supplement
One of the simplest ways to support heart health while also receiving your recommended dose of EPA and DHA Omega 3's is through a supplement. While there are plenty of foods that may contain variable amounts of these essential Omega 3's, taking a supplement ensures you are receiving the exact amount required on a consistent and regular basis. My go-to brand for EPA + DHA is Nature Made® which is the #1 Pharmacist recommended vitamin and supplement brand*. The brand has recently updated their packaging at Walmart from a broad fish oil feature to now clearly highlighting EPA/DHA with the exact amounts (in mg) on the front label. The reason for the change? EPA + DHA Omega-3's are the active ingredients in fish oil that provide heart healthy benefits.† With so many fish oil products, this change allows consumers to pinpoint exactly what they are looking for in a fish oil supplement and be confident in their choice. Fish oil is a great source of naturally occurring omega-3 fatty acids (the two primary are EPA and DHA) and these healthy fats should be included in most people's diets. Text OMEGA3 to 555888 and watch a quick video from Nature Made® to learn more about your Heart Health and Omega-3s at Walmart. Below are the top reasons why I choose Nature Made® for my EPA + DHA supplement:
Fishy tasting burps are NOT something you want to experience when you take fish oil. Nature Made® helps prevent this fishy odor and aftertaste with their specially coated "Burpless" Omega-3 items.
Supplements are purified to remove mercury through a state of the art purification process.‡
Fish oil supply only comes from wild caught ocean fish, not farm raised fish
No Color Added or Artificial Flavors
No Yeast or Starch
Gluten Free
Find Nature Made® Omega-3 Full Strength Mini, 500mg EPA+DHA, Burpless and all other Nature Made® Omega 3 EPA + DHA products in the vitamin/supplements section. Nature Made® Omega-3 Full Strength Mini, 500mg EPA+DHA, Burpless is my preferred variety because it's super small and easy to swallow.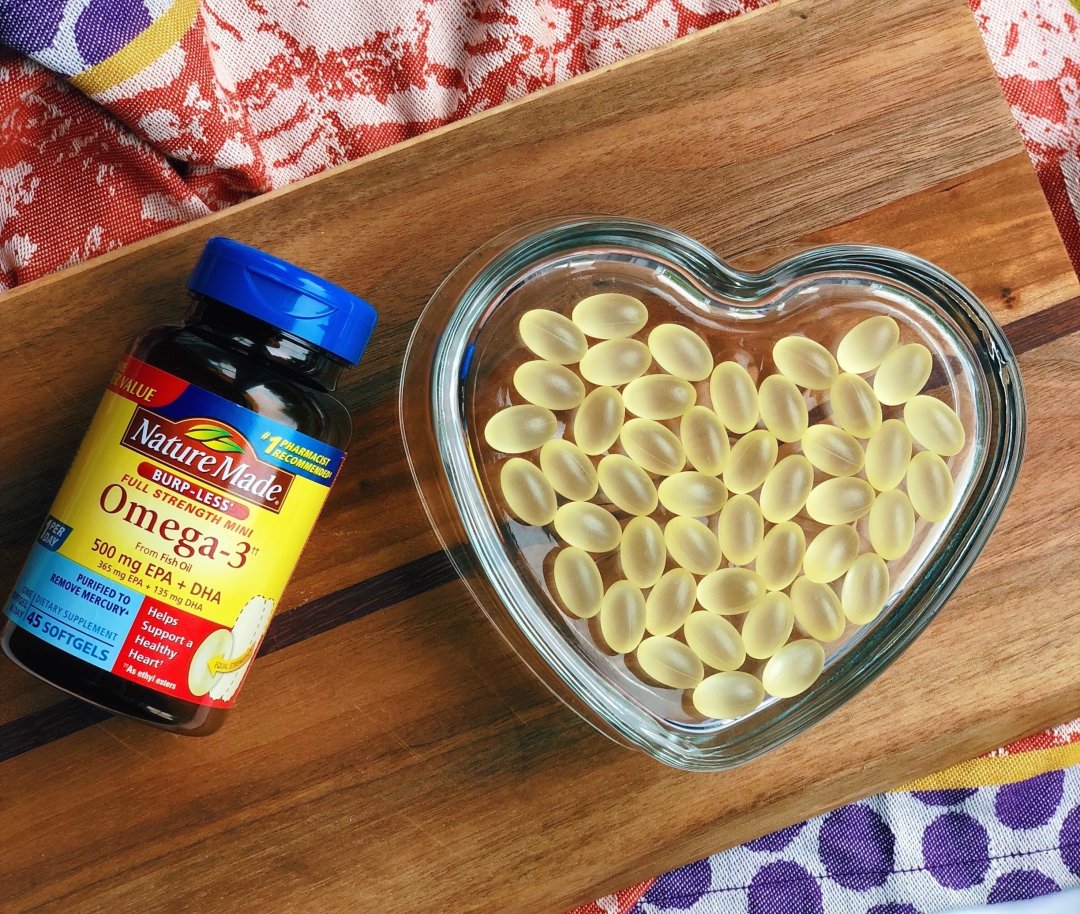 — Hover over image above to shop Nature Made® Omega-3 Full Strength Mini, 500mg EPA+DHA, Burpless now! —
2. 

Schedule in Time for Relaxation
Prolonged stress can have negative effects on the heart. Too often we go about each day fulfilling all of our tasks without remembering to take some time for ourselves. Schedule in a time each day to stretch, take a leisurly walk, meditate, or enegage in a hobby to help decrease your stress levels and promote overall happiness.
3. 

Eat Well Balanced REAL Food
Eating a well balanced diet and choosing high fiber, colorful, nutrient rich foods is a great way to maintain heart health. Choose non-processed real foods like fruits, vegetables, legumes, whole grains, and nuts for optimal nutrition. Eating a nutritious breakfast can help you maintain a healthy diet so don't skip this important meal. My go to heart healthy breakfast is oatmeal (high in fiber, omega-3 fatty acids, folate, and potassium), berries (packed with soluble fiber and phytonutrients), and almond butter (full of healthy monounsaturated fats).
4. 

30 Minutes of Your Favorite Exercise
Get your heart pumping each day with exercise! When you are regularly active the heart muscle becomes more efficient and better able to pump blood throughout the body. This is due a small size increase in the left ventricle (which pumps oxygenated blood out of the heart and to the rest of the body) making it easier for the heart to do it's job. The American Heart Association recommends 30 minutes of moderate intensity aerobic activity at least 5 days a week for overall cardiovascular health. Make it a goal to get 30 minutes in each day through any activity you like including brisk walking, swimming, biking, or playing sports.
† These statements have not been evaluated by the Food and Drug Administration. These products are not intended to diagnose, treat, cure or prevent any disease.
* Based on a survey of pharmacists who recommend branded vitamins and supplements.
The omega-3s naturally found in fish oil (EPA & DHA) have been studied extensively for their important roles in supporting heart health.1-2,†
1 Delgado-Lista J, et al. Long-chain omega-3 fatty acids and cardiovascular disease: a systematic review. British J of Nutr. 2012;107:S201-S203.
2 Mozaffarian D, Wu JHY. Omega-3 fatty acids and cardiovascular disease. J Am Coll Cardiol. 2011;58:2047-2067.
In fact, there has been so much research showing the link between EPA/DHA & heart health support that the FDA approved a qualified health claim that "supportive but not conclusive research shows that consumption of EPA & DHA omega-3 fatty acids may reduce the risk of coronary heart disease."3
3 U.S. Food and Drug Administration. Summary of Qualified Health Claims Subject to Enforcement Discretion: Omega-3 Fatty Acids & Coronary Heart Disease. Accessed 15 March 2017. https://www.fda.gov/Food/LabelingNutrition/ucm0739…
‡State-of-the-art purification processes to remove PCBs, dioxins and furans, and mercury to ensure purity levels below 0.09 ppm, 2 ppt WHO TEQs, and 0.1 ppm respectively.