This shop has been compensated by Collective Bias, Inc. and its advertiser. Product was provided by the client for review; however, all opinions are mine alone. #WorldsSmartestToothbrush #PhilipsSonicare #OprahsFavoriteThings #CollectiveBias
It's that time of year again! The holiday season is my favorite time of year and I have so much fun finding the perfect gifts for family and friends. One of the top places I turn to each year for gift giving inspiration is Oprah's Favorite Things List. This annual list is full of amazing products to discover, at a range of prices points for every budget, that are practical for everyday life or for a special indulgence! Being a long-time Oprah fan, each year I excitedly wait to see what is included on her list and this year it is bigger than ever with 102 items!
As I begin my holiday shopping, I often find it difficult to come up with gift ideas for all the men in my life, including my husband, father, and brothers. So this year, I compiled a list of my top 5 ideas for practical and useful gifts for men. I hope you find these ideas helpful as you shop this holiday season!
Hover over the photo below to shop the perfect holiday gift, the Philips Sonicare DiamondClean Smart 9300 Rechargeable Toothbrush!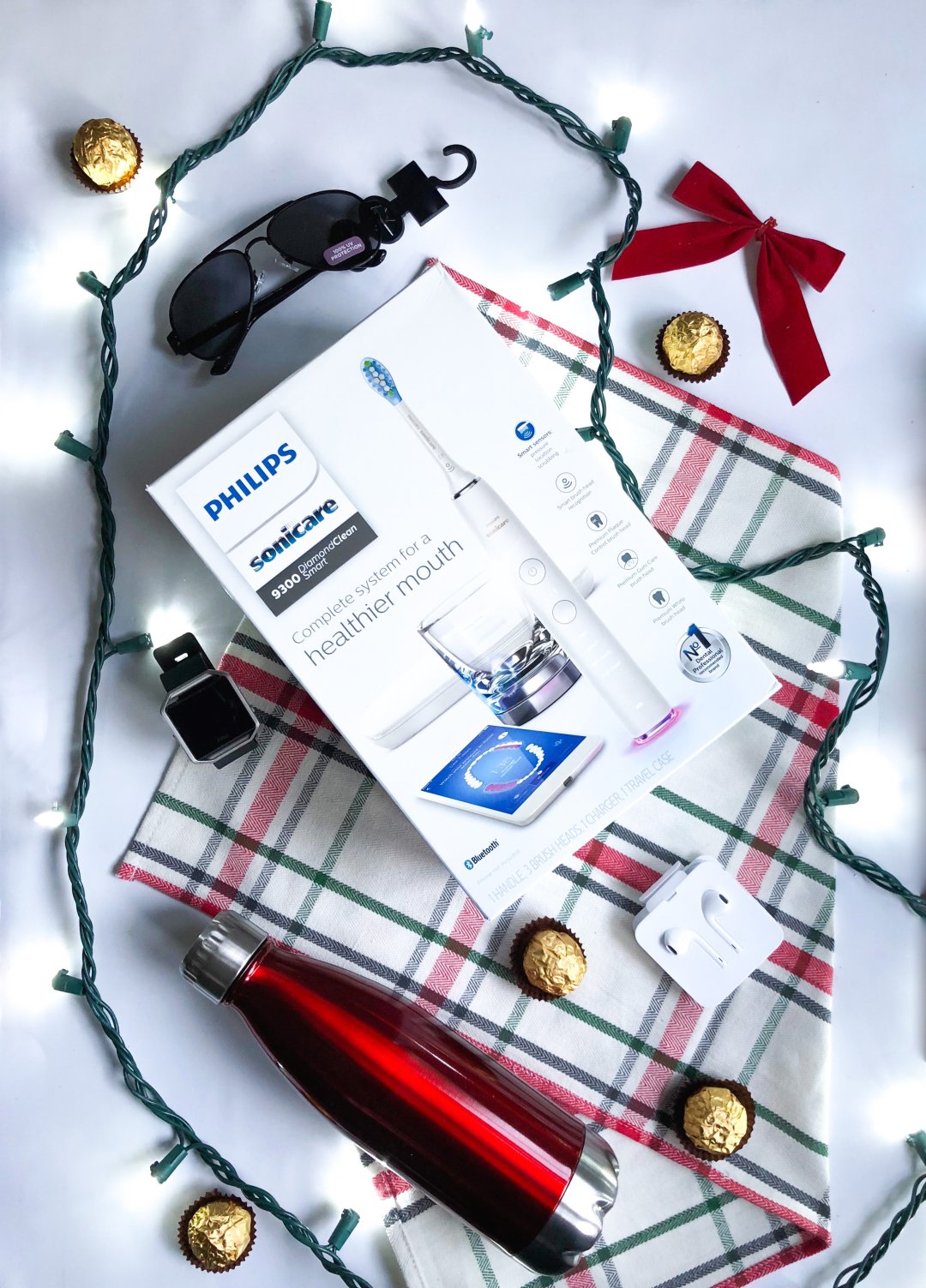 1. Philips Sonicare DiamondClean Smart 9300 Rechargeable Toothbrush
One of my favorite gift ideas from Oprah's Favorite Things 2017 List, is the Philips Sonicare DiamondClean Smart 9500 Toothbrush! The Philips Sonicare Diamond Clean Smart 9300 Rechargeable Toothbrush (pictured below; same product family as the 9500) is a fully loaded toothbrush that gives the man in your life the gift of tech and a healthy smile. This is definitely not your ordinary electric toothbrush but instead a complete oral care system with the most superior sonic technology that will blow your gift recipient away! This all in one product cleans the whole mouth, teeth, gums and tongue with the help of four high-performance brush heads and Smart Sensor technology for personalized feedback and coaching. The Philips Sonicare DiamondClean Smart 9300 Rechargeable toothbrush takes a typical oral care routine to the next level by making it a completely customized experience.
With the Sonicare App and the smart sensors within the brush, you receive instant feedback on coverage, pressure and scrubbing efficiency as well as any missed spots and trouble areas (i.e.: plaque buildup, bleeding areas, gum recession, cavity). There are four brush heads included with the new Philips Sonicare DiamondClean Smart 9300 Rechargeable Toothbrush including the Premium Plaque Control brush, Premium Gum Care brush, Premium White Brush, and the TongueCare+ tongue brush. Each smart brush head has four modes including Clean (for daily cleaning), White+ (helps remove stains), Deep Clean+ (for deep cleaning) and Gum Health (provides a gentle clean along gum line). Along with the four modes are three intensities that allow for a higher setting to boost your clean or a lower one for more-sensitive mouths. The smart brush heads will automatically adjust to the optimal mode and intensity level for your customized experience.
Ready to purchase the perfect gift for the tech savvy man in your life? The Philips Sonicare DiamondClean Smart 9300 Rechargeable Toothbrush can be easily purchased online from Amazon.com. Find further detailed information as well hundreds of highly rated reviews here now!
2. Earbuds
One gift you can't go wrong with this holiday is a pair of high quality earbuds. Whether your loved one enjoys listening to music or audiobooks, finding a pair of low profile, comfortable earbuds with a consistently clear sound delivery is a great choice for a practical and useful gift! Earbuds are ideal for an affordable small gift or make it a splurge by selecting high tech options (think bluetooth wireless earbuds).
3. Stainless Steel Insulated Tumbler
If your guy is an avid coffee or tea drinker, a stainless steel tumbler is a must-have gift. Look for a tumbler made with high quality 18/8 food-grade stainless steel with insulation technology that keeps drinks hot or cold for extended periods of time. Other features that are ideal when choosing this gift are a splash-free lid and lightweight construction.
4. Sunglasses
Sunglasses are another great idea for a useful holiday gift for men. With a variety of price points this gift can fit all budgets. An import factor to remember when choosing sunglasses is to make sure they block 100% of UVA and UVB rays. Additionally, polarized lenses help to cut glare which is a nice feature when out at the beach, driving, or in the snow.
5. Smart Watch / Fitness Tracker
With 2018 approaching, everybody is going to be focused in on getting healthy and in shape for the new year. A smart watch or fitness tracker watch is a great way to get motivated and schedule in workouts while visualizing progress. In addition to the fitness tracking capabilities having a quality watch is an added bonus. This gift is the best of both worlds: a high quality watch and a fitness tool!